Get Some Learning
Quarantine +  inexpensive skill acquisition + internet = Just. Do. It.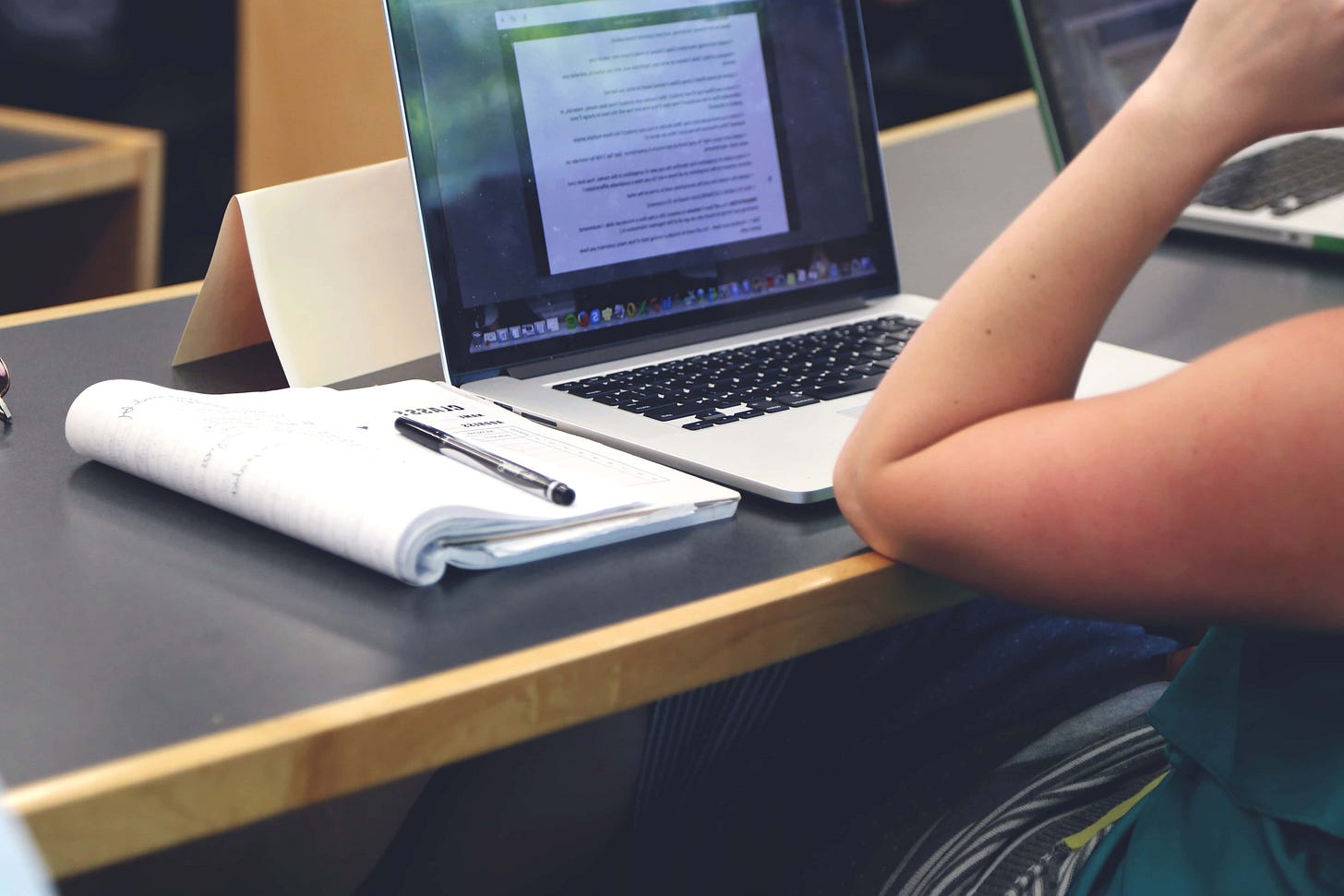 I used to teach Introductory Latin during the 2nd semester of every year.  Like a lot of first-year language courses, there were regular quizzes and drills and tests, which is to say that I had to keep track of a lot of numbers attached to names.  At the beginning of the semester, I'd open a Word document named something creative like, "Intro Latin Grades," and as the semester progressed, I'd fill it out:
Susan Jones
Quiz #1: 18/20
Quiz #2: 
…..
Test #1: 90/100
Test #2: 
….
Midterm Exam: 88/100
Final Exam:
Jill Smith
Quiz #1: 10/20
Quiz #2:
…..
Test #1: 72/100
Test #2:
….
Midterm Exam: 85/100
Final Exam:
And so on.  At the end of the semester, I'd print it out and tally everything up.  Different tasks were weighted differently (e.g., "your midterm is worth 30% of your final grade…."), and I'd make notes on the hard copy to keep track of things while I punched numbers into the calculator.  By the way, a "calculator" is an old-fashioned device with buttons that you press to get answers to math problems.  It's from the time of things like pay phones.  Using a calculator required that you actually knew how to calculate the problem you wanted to solve, which gave rise to small circles arithmetically challenged professors sharing cheat sheets (on paper!) with example calculations for this or that.  If this all sounds really old school— but not in a cool way — you're right.  Let's see: something like 7 or 8 semesters calculating intro Latin grades by hand….hmmm, that's probably ~30 hours of my life I'll never get back. 
I have a vague memory that people would sometimes say things like "you could use a spreadsheet for that."  These people were not humanists, and they no doubt thought that it was funny (or just sad) that this Classics guy, who otherwise seemed reasonably intelligent, was calculating grades by hand.  I'm sure that I could have downloaded Excel (actually, it was probably already on my computer, but I didn't know where) and learned a few keystrokes, but that just seemed impossibly difficult or inconvenient or something, so I never did. 
Fast forward to 2007, and I'm a consultant.  Spreadsheets were everywhere, and everyone knew how to use them.  Use them?  Hell, people could make these grids cook dinner!  What, you can move an entire column of numbers like that?!  It can just average all of those numbers without adding them up first?!  And they not only would put numbers in them, but they'd also put words in them!  Words!  In a spreadsheet!   I now viscerally understood the idea of a fish riding a bicycle.    
After something like the 10th time I asked one of my colleagues how to add cells together or color them or do something else equally simple, my cute ignorance was starting to look a lot like ugly incompetence. So, I decided to take a class on Excel.  For something like a month of Tuesday and Thursday evenings, I slunked a few blocks from my office to a basement classroom in an office building with 4 other people, and I followed along in a workbook as the very nice lady talked through slides on a screen showing how to do this or that operation in Excel. I didn't have any delusions that I would become a real Excel jockey.  I just wanted to get to a point slightly more advanced than not embarrassing myself.  And I did.  Today, sometimes I actually like spreadsheets, and can manipulate them and learn things with them that in the past would have either taken me a lot longer to figure out or which I would have just written off as too complicated or difficult.  I know, right? Who'd a thunk it?
The point of this sad tale of my triumph over ignorance is simply to say that you can and should learn new skills.  Exactly what is up to you.  What I can tell you is that if you don't know how to use Excel or Powerpoint (I assume you know Word) in the business world, you are at a disadvantage.  At the very least, many tasks that are basic to some people will be harder for you and will take longer.  Ugh. So, start there. After that, maybe learn some coding? 3rd-graders today seem to know how to write an app, so it strikes me that learning a little bit about that can't be a bad idea.  Learn how to give a 10-minute presentation.  Learn how social media works (beyond posting funny cat videos).  Learn how e-commerce works.  Learn basic accounting. Or basic economics. Or Python. Or...well, you get the point.
I've been thinking about this a lot recently, because I've been seeing ads every day for courses or classes that are "marked down from $399 to $29" or that have the best price of all: FREE.   I did the hard work of Googling for you and found the following places to start.  I'm very confident that you can do much better.
14 Best Sites for Taking Online Classes
Gin Company Sponsors Free Learning (Wish They'd Thrown in a Free Quart, Too)
Quarantine +  inexpensive skill acquisition + convenient access = Just. Do. It.
But Wait, There's More!
Hi, Patrick here. I'm going to add my two cents to this. The first $0.01 is this. Learning is one of the most important fundamental skills, and the good news is that it's something you are already good at. The only difference is that you don't have to do it in your academic field: you can learn anything! It's a great opportunity to find out more about all kinds of areas, careers, and people.
The second $0.02 is more practical. Over the past few years I've done a few courses, not with a view to becoming an expert, but more to be what I'd call conversationally proficient. In grad school I learned "German for reading knowledge" (as I'm sure many of you have, too); the goal was not to be fluent, but rather to be able to take a page of German and know basically what was going on. I feel the same way about the courses I took, two in economics, and two in programming: for instance, I knew I'd probably never use any serious programming in my work, but if presented with code on the screen I wanted at least to get the gist.
If you're used to the world of PhDs in which the process is to climb until you reach a pinnacle of knowledge and then literally defend your right to occupy it, the idea of learning just enough to be no longer ignorant might sound like amateurism, but the (rather encouraging) truth is that you can make really valuable contributions to the world without being the world's foremost authority.
There are two main resources I've drawn on that I highly recommend. The first is Coursera. Most of the courses are free, and the scope of topics is vast. (I used to download lectures and listen to them in the days of old, when we sat in flying steel tubes and visited faraway places.) 
The second resource is an organization called DataCamp. It's not free, but you can subscribe for $25 a month and learn over 300 programming-related courses.
So, those are two good resources, but there are many others, so the best thing to do is explore and see what you find interesting. And there's no better way to put it than Brendon did: just do it.