More PhDs, fewer jobs...
... and somehow we're okay with that.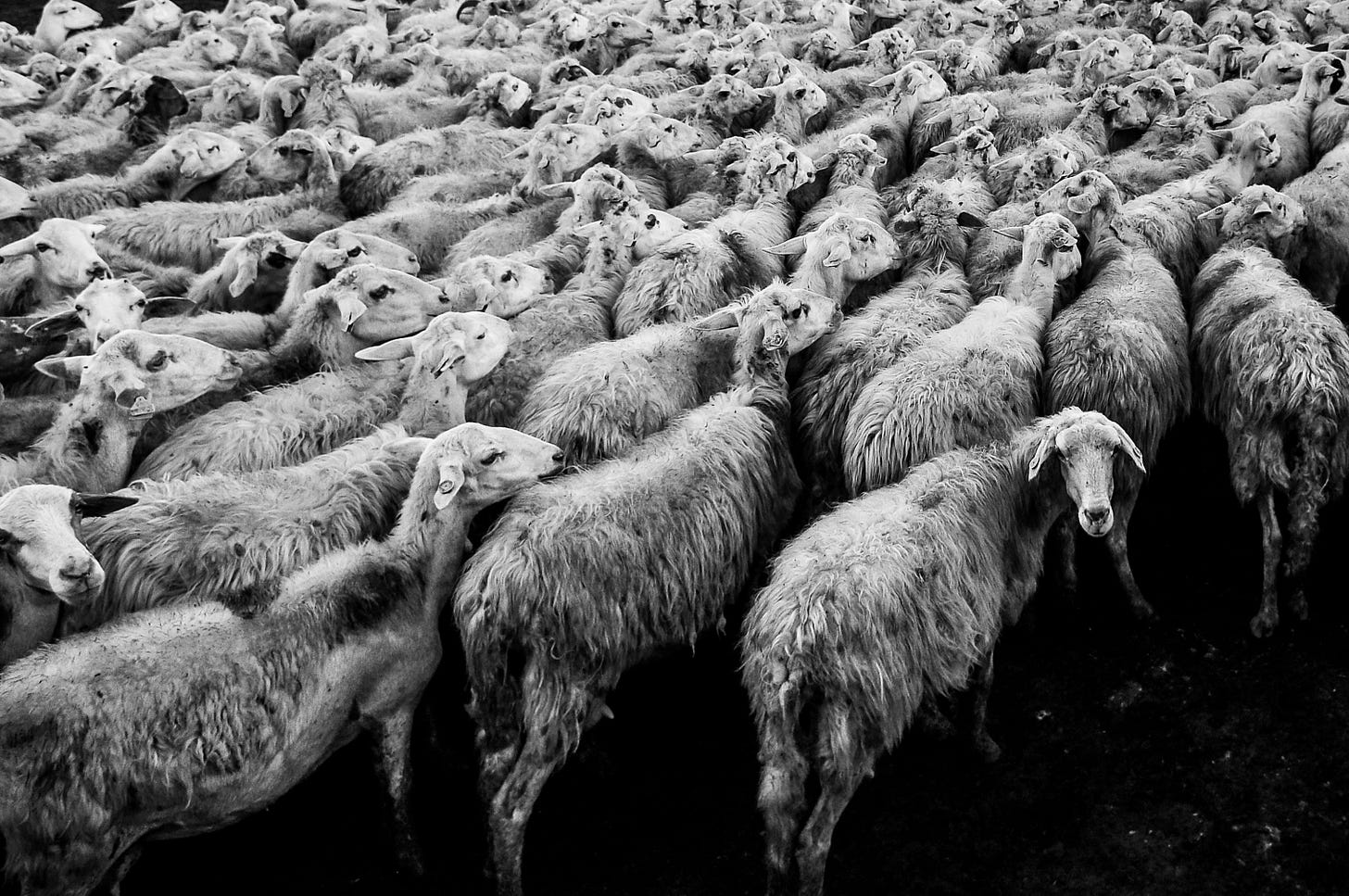 As I'm sure is the case for many of you, the past few weeks have been as much a time for reflection as for readjustment. Brendon and I were on a call last week, and in describing what we are doing, he outlined two 'first principles', namely that there are more and more PhDs, and fewer academic jobs for them. It doesn't take any genius to realize that although this is a worsening trend, it's not a new situation. But as I think about it, even though some universities are acknowledging that not all graduate students will get academic jobs, there isn't a lot of urgency around it. In fact, if I hadn't met people who were actively exploring non-academic careers, I'd say that despite the worsening academic job market for PhDs, the academy as a whole seems to be okay with it. Why is that?
I don't intend this to be a "what-is-wrong-with-us?" or "how-could-we-be-so-blind?" piece; rather, I'm thinking the situation is so alarmingly obvious that there must be explainable reasons to overlook or accept it.
As I see it, there are two sides to it. First, the dynamic of the system itself, and why these conditions are favorable; and second, the dynamic among participants in that system, and what makes participation acceptable.
The system
The system is circular in a very tidy way. Universities have graduate programs that train people, and give them a qualification that in turn serves as the point of entry into a job training other PhDs. When a vacancy among the trainers opens, a more or less recent trainee will step in. As with any system, some waste is unavoidable: that's why you buy more paint or tile than you actually need. Some excess supply is actually helpful, since it gives employers a wider choice among candidates: you can easily imagine that finding the very best person for a job is a lot easier when there are 15 qualified candidates to choose from than when there are only 2.
More is not, however, always better. At a certain point, when there are too many qualified candidates, the balance of bargaining power shifts, and the employer can stop looking for higher quality (since there are so many highly qualified people they could probably pick one with their eyes closed) and can start looking for lower prices. In other words, given a comparable level of quality, a business will prefer to take the lower price, and if there is a fantastically large number of people equally qualified, there's no reason to pay a premium to hire one of them. Once that dynamic is aggregated across a labor market, it means wages remain low, and wage growth from year to year is slow. It's easy to see why this is in a school's interest, and why academics are, on the whole, not all that well paid.
The excess supply of PhDs is also a great help in that there is an almost endless resource for finding qualified temporary work — adjuncts and visitors — that can adjust up or down according to a university's needs.
Beyond the fact of an oversupplied academic labor market, the process of creating that excess also serves universities very well. Those grad students can serve as teaching or research assistants (again, inexpensive expert labor), they further the research and reputation of departments, and they contribute to the campus community that attracts more funding and cohorts of paying students.
So if the system as a whole benefits from the situation, what incentive is there to change it? In other words, why get in the way of a good thing?
Participants
Well, one good reason would be if the participants don't like it. But, complain as we might, a lot of people begrudgingly participate. Why?
First of all, it's not how bad the situation is that matters. It's how long we expect it to last, and what the payoff is at the end. So, dismal as things may be, it's the hope of something better that sustains us. (In a previous post, I referenced this excellent article on how academia resembles a drug gang, especially how that can show itself in accepting low starting wages in exchange for later status and security.)
Setting aside the human propensity for hope, there's also the fact that we are terrible at assessing the odds. The chances of a newly minted PhD getting a tenure-track job are famously small, statistically. And yet, the way we tend to think of it is less "there is little chance of this paying off" and more "someone will get that job, why not me?" Add to that the fact that while you are waiting for that payoff, you are working to improve your chances. That's actually a false sense of progress, because there is no plausible measure of how much you really are improving those chances, and you are not the only one: everyone else is doing just the same, evening out those chances all the time.
Then there is how it feels to be taking part in this gamble, and more specifically, that everyone feels that it is not as much of a gamble for them as it is for everyone else. As humans, we tend to do this anyway: how many times do we say to ourselves, "yes, but this time is different" or "yes, but it's different for me"? As I am sure is the case for most grad students, I embarked on an academic career precisely because I felt I had worthwhile contributions to make, and because despite the obviously horrible academic job market I thought my chances, personally, were pretty good. The truth is, not surprisingly, that not everyone's chances can be better than everyone else's; but even though we might recognize this collectively, all that is necessary to perpetuate and reinforce the dynamic is for a critical mass of people to think the odds are in their favor. (My wife pointed out to me that this should mean that more people would like their odds of 'getting out' and making a successful non-academic career, but the majority of people tend to stay.)
Besides, there are distinct and tangible pleasures to the academic world while you wait for your number to come up: intellectual challenges, interesting colleagues, the satisfaction of producing good writing, and if you enjoy teaching, the opportunity for noble work. That's not a bad way to spend your time, and if your chances of getting the job you want are as good as anyone else's, it's a comfortable kind of discomfort.
Of course, if you're a grad student, don't forget the absurd failure rate: as many as 50% of grad students don't actually finish their PhDs. This can make completion itself look like a good way to improve your odds of getting an academic job, but sadly, it's built into the system already. Indeed, it's one of the reasons schools have to keep turning the PhD crank: how else would you give the market the excess supply it wants if only half the people you let in are actually finishing their degree? And that's just the people finishing at all, let alone the people who could finish anywhere between year six and umpteen.
Adding together these dynamics, it seems understandable on the one hand that the system itself benefits, and on the other hand that it's not so dire that urgent collective action is required. We all know how hard it is to effect change, even with all the will in the world, so the lack of urgency in this case makes sense.
What's missing from all this is something for another post, namely the counter-factual: if these are the reasons why people stay in academia, what are the reasons for leaving?