Should I Stay or Should I Go?
A career counselor's take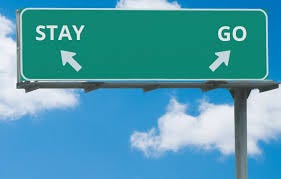 From our first conversation brainstorming about a newsletter for humanities grad students and PhDs, Patrick and I thought that bringing in other voices, especially of those individuals who had a big impact on us, could be a real boon for you, our readers.
This week, I'm thrilled to introduce you to Marcie Hirsch, who has been a mentor and an inspiration to me since the very beginning of my launch from academia. Marcie is a consultant on workplace and career issues, and is the co-founder of SmarterWisdom Consulting. "Consultant" seems a little too modest to me. I prefer "rock star/guru/genius." Marcie's full bio is here (she does private career coaching, too, and I've included a blurb from her about that at the end of her article). She's had a gigantic impact on my life and career. I hope that she has even just a fraction of that effect on you.
I asked Marcie if she'd respond to the question: "when is the right time to change careers?" Here's what she sent us:
Should I Stay or Should I Go?
In the spring, I always get a lot of inquiries from academics---or those preparing to join their ranks---regarding staying in the academy. There are many situations that lead people to reconsider their professional commitment to the life of the mind, but most queries are prompted by one of several scenarios.  Looking at the two subgroups noted above reveals differences and similarities in the issues driving individuals in academia to reevaluate their career goals.
The first group is made up of people who are already employed in academic jobs — from tenured, chair-holding professors to entry-level instructors and lecturers and the folks in the many tiers of roles in between. These faculty members experience the pros and cons of teaching in higher education on a daily basis. They are also facing a career trajectory which they can envision to varying extents, depending on the role they are in. As is frequently the case, those at the top of the pecking order — which means tenured individuals and beyond — have the most enviable conditions. They can expect that, (barring enormous upheaval,) they are likely to be able to retire someday from the positions and institutions in which they are currently employed, should they opt to do so. Some of these senior faculty may leave their college or university for another role or institution, but, in virtually all cases, that decision will be their own, and tenure will be a guaranteed element of any new academic position they undertake. 
For faculty members on the other side of the great tenure divide, the path ahead is more variable. Those in tenure-track positions usually have a career line of sight a few years out, ending in being considered for tenure; for those receiving a thumbs-up,  they will be cleared to enter the privileged world of predictability and virtually risk-free ownership of their roles in their institutions until they retire. The less fortunate will lose their footing on the academic ladder and be cut loose from their institutions to re-enter the academic employment scramble or seek a job outside of the ivory tower. 
For those currently employed in non-tenure-track roles, the specifics of their employment beyond the end of the current semester are largely unknown. Even if they are permitted to remain in their current job for another go-around or two, these individuals are usually no closer to joining the ranks of the tenure tracked. The range of future academic career trajectories for people in this category is clear and flat: more lecturer or instructor roles at their own or other institutions.
The second category is made up of individuals preparing to pursue a faculty career. Most budding academics are in doctoral programs, working closely with faculty, some of whom hold the very sorts of positions to which these students aspire, as well as some who are in roles these graduate students hope fervently to avoid. Thus grad students are up-close-and-personal with the scenarios which might play out in their own futures, for better, or for worse. The reality is that there simply are not that many different ways to be engaged in teaching at the college or university level: You are either "in" permanently, "in" temporarily, pending a decision on your future, or permanently "out," resigned to the purgatory of nowhere-leading-there's-never-going-to-be-tenure-in-your future jobs. 
And the real world adds its own flourishes to the challenge of pursuing these highly competitive job paths, making some more or less attractive or even viable. By the time most individuals finish a PhD level course of study, they are well into adulthood. As a result, they may be partnered or have a family to support. They may be carrying significant educational debt they need to pay off. They may have strong ties to a local community, or responsibilities for aging parents. All of these real-life elements will likely narrow the numbers of job opportunities any individual is willing to pursue, or, alternatively, they will be forced to make some very difficult choices between work and other things they value highly. A quick glance at the jobs posted in the Chronicle of Higher Education illustrates the (relatively) small numbers of positions in many fields, and the vastly different geographies in which they may be located. Not only are the odds of identifying many good job openings in one's field small, but the likelihood of actually being able to navigate the life complexity of pursuing many of the opportunities makes the realistic possibilities smaller still. Not everyone can — or wants to — move to Dubai.
In sum, pursuing an academic career is a high-risk/high-reward venture. And, unlike some life decisions that only need to be made once, as one proceeds along a career path toward and in academia, the changing circumstances surrounding that initial choice demand revisiting the decision at many points along the way. Some of the changes are external — your faculty advisor passes away and you inherit an advisor who seems disinterested in you or your work or the numbers of students enrolled in your department have shrunken to the point where granting tenure to you or any of the young up-and-comers in your department (no matter how outstanding they may be) is simply very, very unlikely. And then there are internally driven changes that may drive reconsideration: discovering you are pregnant with triplets, or that your personal commitment to stay close by following a terminal medical diagnosis of a parent precludes pursuing a distantly located opportunity. Whether they originate internally or externally, a change in context may force a new evaluation of whether the path ahead is truly available to you or, even, whether you want it any longer. 
Good career decisions are the result of understanding yourself and understanding the work you have set out to undertake. In the camp of understanding yourself, being aware of your talents and orientations, your values and your interests, is critical. Being cognizant of how the work you have targeted is shaped — the abilities required for success, how one's time and resources must be structured to effectively deliver in a role, is also key. Most importantly, how do these two sets of requirements match up? If they overlap, many of the roadblocks which might otherwise derail your successful pursuit of that work may simply not arise. On the other hand, if you require a significant amount of time for reflection when making an important decision, and you pursue a career as an EMT, that portends built-in, hour-to- hour conflict for you in just doing your job.
In the case of academic careers, the elements outlined above are predictable components of pursuing employment in that field. The question becomes, are you cut out for it? Will it be unusually difficult — or especially easy — for you to be competitive in this field? Will you have to give up anything you consider to be absolutely critical in your life to succeed at it?
Should you consider a change in course? Potentially, but that is a possibility available to you at any point along the way. What is not negotiable, however, at any time you undertake this consideration, is your genuine understanding of what you bring to, need from and want in your career. If you have been in denial until now, overlooking conflicts between you and the likely progression of an academic career, cease immediately and move immediately to making an honest comparison between what is requisite for you and what is requisite for the successful pursuit of your career goal. You won't have all the answers to all of your questions at your disposal: some of what you will be looking at will be degrees of risk rather than pre-determined outcomes. But that is true of life overall. Go through the exercise: look at yourself without benefit of a fuzzy filter. And hold that up against what you also know to be true about the path you are pursuing. 
That's where the answer lies, and it's not an easy target. That is why career coaches exist: to help people get through the challenge of figuring this stuff out. But, however you do it, DO IT. What I can guarantee you don't want is to be at the end of your life, wishing that you had.
(From Marcie, re: her private coaching practice: "I gained my career coaching chops running college and university career centers (Wellesley College and Brandeis University) serving undergrads, graduate students and alums. Many of the individuals with whom I worked asked if I could also see their friends, family members or colleagues (which I could not do on university time!) so I launched my own career coaching practice. To date, I have worked with thousands of individuals on issues ranging from "What do I want to be when I grow up?" to "What else can I do with a degree in _____ (fill in the blank!) or "I think I took a wrong turn back when I applied to grad school, and now I feel stuck with my choice. Am I?" 
Because I am intimately familiar with the workings of universities (in addition to senior administrative roles and teaching at the college level, I have consulted to dozens of institutions of higher education in my work at HirschHills Consulting,) I am particularly well-equipped to assist individuals with concerns about careers in academia, the options for individuals considering leaving that sector and the management of academic careers for optimal success. You can reach me at msh@smarterwisdom.com for additional information about my private coaching practice).