From History Ph.D. to Biotech Communications Consultant
By Sarah Sutton, Ph.D.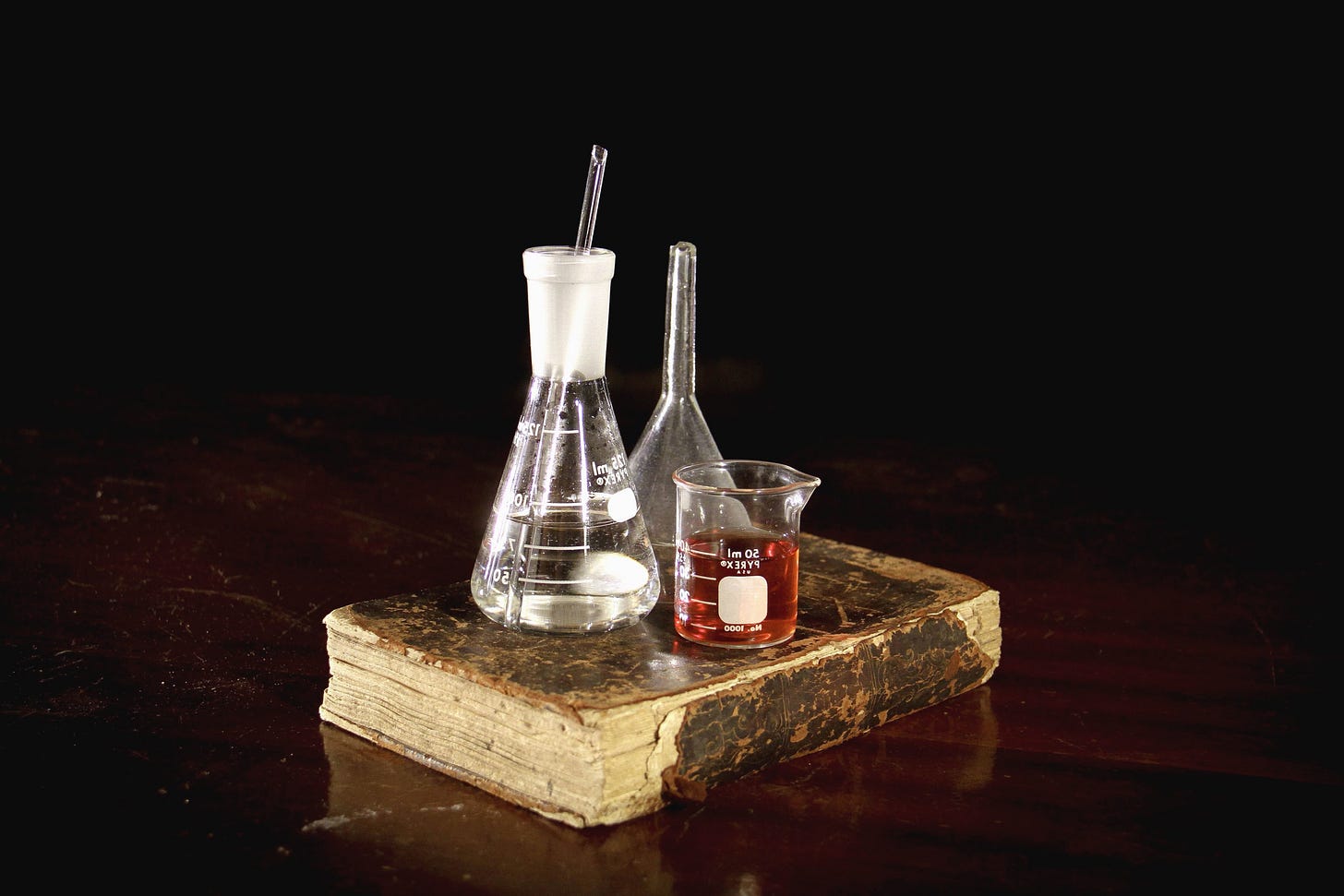 From the get-go, we've thought that one of the most valuable services of a newsletter like ours is to share the stories of humanists who have leapt from academia into other careers. I'm sure there are many discrete ways in which these accounts are valuable. Most basically, for me, it's all about resonance — "her situation sounds sorta like mine; hmmm, maybe I can borrow some of what she did (and avoid the mistakes she made)."
A couple of months ago, Ariane Schwartz discussed her move from Classics to her role as an expert in digital learning at McKinsey. This week, we asked Sarah Sutton (Ph.D., History, Brandeis U) to walk us through how she moved from academia to her career in biotech communications. Thank you, Sarah! See what resonates for you in her story, which starts now:
I am often asked how I transitioned from being an aspiring professor, writing a dissertation about the history of milk and dairy farming in America, into a career as a public relations consultant for biotech companies, venture capitalists, and other healthcare startups. I usually tell a story about my longstanding interest in science writing, and how passionate I am about making the sciences accessible to broad audiences. 
But that story makes it sound as if the journey to my current position was planned and easy. In reality, it was long, meandering, and fraught with difficult decisions. 
When I began applying to history Ph.D. programs, I had an undergraduate degree from an Ivy League college and several years of journalism experience under my belt. I dreamt of a life spent researching and writing popular history books and teaching and mentoring students.  
My undergraduate advisor briefed me on the state of academic job market but told me if I did everything right, I should have no trouble landing a tenure track position. I misinterpreted this statement as a vote of confidence in the future of academia, and enrolled in a history Ph.D. program at Brandeis University.
Shortly after beginning my studies, the Great Recession hit. I watched as the advanced graduate students in my program went on the job market and failed to find jobs. But I was convinced that if I worked hard enough, I would succeed where others had failed.
I might have stuck it out longer in academia, but when I was halfway through writing my dissertation, my husband and I divorced, leaving me a single mother with two young girls and nearly six figures worth of graduate school debt. Single motherhood puts you at a disadvantage in any career, but none more so than academia, where moving for a job, if you're lucky enough to find one, is practically mandatory (I was tethered to Boston), starting salaries are low (raising two children in a large metro area is expensive), and working towards tenure demands unrestricted time and energy (of which I had little).
I gave myself a year to finish my dissertation and find a non-academic job.
I felt poorly equipped and underqualified to hold any sort of job in the "real world," but being unemployed was not an option. I searched LinkedIn and called everyone I could find who had left academia for industry. I picked their brains for advice about how they made the transition. I tapped alumni networks at my undergraduate and graduate institutions, and scheduled coffee dates with anyone who would spend a half hour telling me about their jobs. 
After about a month of this, I met a woman who'd attended my undergrad institution and now worked at a biomedical research organization. After learning more, I applied for a job as a writer on the fundraising team. She put my resume in front of the hiring manager, and an interview and job offer quickly followed. 
I thought I'd hit the jackpot. I was so shocked that the company wanted to hire me—a history graduate student, who had not held a real job in five years! —that I accepted the job without a second thought, before they had too much time to think about the mistake they had made in hiring me and rescind the offer.
At first, things went smoothly. The organization was staffed with smart people who were doing fascinating scientific research. But enthusiasm for a company's vision only goes so far when you don't like the work you do on a daily basis. My job involved drafting emails for the organization's CEO and sending thank you notes to donors, tasks that I found dull and repetitive. After a few months on the job, I learned that in accepting my position without negotiating my offer, I'd secured a salary significantly below the average for my new field. 
I lasted six months before hightailing it back to academia, where I finished my dissertation while teaching a few courses and directing my university's writing center. I occasionally browsed tenure track job openings on H-Net, but there were so few postings in my field that an academic future remained impractical. 
I felt sad about this, but my brief time outside the academy had shown me that many people who were not professors had jobs they found fulfilling. As I prepared to defend my dissertation, I resumed my job search, this time armed with lessons I had learned during my first foray out of the ivory tower. I wanted a job I could turn into a career—one that drew on the skills I'd developed during my graduate school training, challenged me intellectually, and offered opportunities for growth. 
I began networking again and asked the people I spoke with and what they did and didn't like about their work. At the conclusion of each conversation, I asked them if they could introduce me to a few people who might be willing to speak with me about their careers – multiplying the size of my network. These conversations gave me a better sense of which kinds of roles might be a good fit for me. 
In the end, it was a combination of networking, persistence, and luck that landed me in my current career as a public relations strategist to biotech companies.
After deciding I was interested in science communications, I reached out to a friend of a friend who put me in touch with someone who was launching a biotech-focused public relations agency. 
I knew little about biotech, but the company founders were impressed by my interest in scientific research, my background in journalism, and my analytic writing experience. I was won over by the stories they told about biotech companies working to cure rare childhood diseases and deadly cancers and intrigued by the opportunity to work in an entrepreneurial culture. Even though I had no real experience in public relations, they hired me. 
I stayed with the firm for three years, then moved to a larger company, the Glover Park Group, where I am now a Vice President on the company's Health team. 
I've been in the field of science communications for more than five years. My work is fast-paced and interesting. I've helped to name, brand, and launch at least a dozen new companies working to develop cures for cancers, rare diseases and neurological disorders. I've worked closely with CEOs to prepare them for media appearances. I've launched social media campaigns, helped clients win industry awards, and guided executive teams through major milestones—both positive ones, like a big financing, and disappointing ones, like the failure of a clinical trial. 
In reflecting upon how I came to the place I am today, I often think about what I learned during my first, failed foray outside academia. 
My graduate institution bears some of the blame for my initial bad experience. Like most universities, it was unable to place its Ph.D. students in academic jobs. But instead of guiding students towards rewarding careers outside academia, it perpetuated several myths—that tenure track positions still existed for students who wanted them, and that the only acceptable career path for a Ph.D. was an academic one. Because I bought into these myths, I took the first job I could find instead of looking for a job that suited me. 
I also had to shift from framing my Ph.D. as a liability to framing it as an asset. In some of my earliest interviews, I tried to explain away my degree, dismissing it as a flight of intellectual fancy. But the second time around, I reworked my resume to highlight the unique skills I'd developed during my graduate school training. Some companies still looked at my Ph.D. with suspicion. But others saw I was a strong writer and critical thinker and noticed that my years of teaching had made me comfortable giving presentations and providing feedback and advice -- a key part of my current position, where I consult with and advise executive teams. 
To this day, I still believe I would have made a great professor, and sometimes I wonder what my life would look like had I followed a traditional academic path. 
But I believe I've found a career that checks many of the boxes I was looking for when I launched my second job search. I use many of the research, writing and analytical skills I developed in graduate school. I have great colleagues and I am compensated well for my work. I'm able to work remotely and I do my best to balance my job with my family. 
And I am still able to maintain connections to my old academic life -- I recently began teaching a writing course at Boston University, and I enjoy keeping one foot in the academic world from which I came.