How I Got My Job, by Ariane Schwartz
Processing information from antiquity to today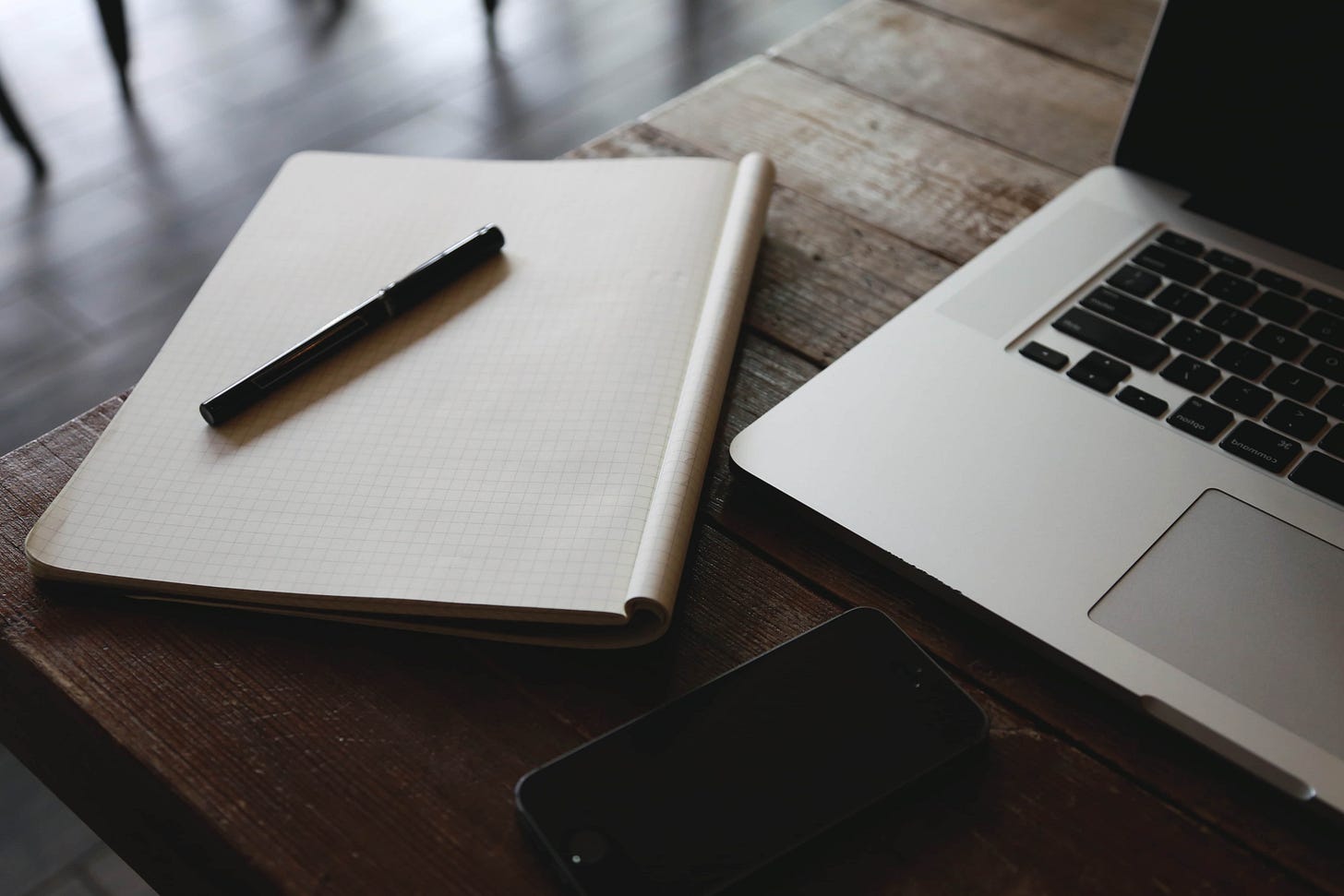 Last week, we invited nationally recognized thought leader and consultant on workplace and career issues Marcie Hirsch to share with us her thinking about that age-old dilemma, "Should I Stay or Should I Go?" This week, we're thrilled to share with you the story of a humanist who decided she should go, Ariane Schwartz. We asked Ariane to talk about how she made the move from Classics professor to digital learning guru. Here's her story…
Oh, but before we go there, this: because we've got to feed the hamsters that turn the wheels that make this whole internet publishing thing happen, a quick head's up that paid subscribers yesterday got the additional treat of Patrick's insights on "Are non-academic careers intellectually rewarding?" This and the whole "Exit, Pursuing Career" archive can be yours when you become a paid subscriber ($5.99/month, forever). Check it out. If it sucks, you can cancel and advise us on how to make it suck less. Or how to make it be worth the price of a fancy latte once a month.
OK, back to our regularly scheduled programming. One more comment, this time about Ariane's story. I've been accused of being pathological about the importance of networking. Note the role of a "good friend already at the firm where I got hired" in Ariane's story. NETWORKING IS EVERYTHING. Just sayin'.
How I got my job, by Ariane Schwartz
What did my journey look like from teaching courses like a huge classical myth lecture and Latin literature seminars to working in management consulting? Since June 2017, I have been helping our clients build capabilities and accelerate organizational transformations as a specialist on our digital course operations and delivery team. I'll share some context and key milestones and learning opportunities from that journey in order to help you understand how to chart your own course in pursuing diverse careers beyond academia.
How do people process information through technology?
Education and technology have been central to my work both in academia and in business. In 2011, I received my PhD from Harvard in Classical Philology and wrote a dissertation that was pretty interdisciplinary on how figures in the 15th-17th centuries CE read the poetry of the Roman poet Horace (1st century BCE)  -- half my committee came from early modern history and half from Classics. During that time of immense technological change, how did people use their new tools to help them understand the legacy of antiquity and apply that knowledge to their daily lives? Since college, I've been interested in how people have managed and processed immense amounts of knowledge from antiquity through today and fell quickly in love with classical reception studies. How do we read? How do we learn? I made a point of focusing on the relationship between "the real world" and humanistic scholarship from the very beginning. My senior thesis in college was on how an expert in international law from the 17th century read Latin and Greek. In both my dissertation and senior thesis, I was fascinated by figures who combined an interest in the humanities with their real world impact work in their day jobs. That combination is one that I now pursue in my day-to-day work -- I remain active in work in Classics through research and strategy initiatives while working in consulting and have (I think) successfully demonstrated that one can do both simultaneously -- it just requires excellent time management. 
The job search
After my PhD, I taught for several years at Dartmouth, UCLA, and Harvard. During that time, I also co-founded the Society for Early Modern Classical Reception (https://semcr.weebly.com ) and was involved in several digital humanities initiatives, including Quantitative Criticism Lab (https://www.qcrit.org ). I spent several years on the academic job market and experienced all stages of that interview process, from initial phone or Skype interviews through to campus visits. I finally decided that I needed more geographic stability and certainty in my life and so decided to stop applying for those jobs. When I was thinking about looking for a non-academic job, I made a list of broad topics I was passionate about in my academic career to try to narrow down possible career paths. I landed on university admin and edtech roles. After I joined LinkedIn (an incredible resource for networking), I started setting up informational interviews both by phone and in person to learn more about those possible career paths. I leaned heavily on my network. I landed a number of interviews for both university admin and edtech roles over the course of almost two years; I wish I had kept a spreadsheet of every single job for which I applied during that time and strongly encourage everyone to keep such a record to help organize what can feel like an overwhelming process. During those two years, I was also teaching in Classics part-time at Harvard and working on some digital humanities and editorial projects. 
Business meets philology
In late May 2017, I began my current role. I had my initial informational interview in June 2016 through a good friend. At that time, there were no roles open appropriate for someone with my background, but the division I was interested in was growing, and my contact there said to keep in touch. I should have kept a better eye on open roles there than I did (word to the wise: create that spreadsheet!). I didn't follow up again until March 2017, and once I did and applied for an open role, the interview process went pretty quickly. Since June 2017, I have been working on the Course Operations (now Digital Delivery) Team, and was promoted as of January 2020. As in my academic life, I now help people manage and process immense amounts of knowledge through digital course development and delivery for clients and keep in mind those initial questions: How do we read? How do we learn best? What makes sense in the context of their lives, their real world, in 2020 and beyond? The answer is through digital learning. The content is different from Greek and Latin philology -- core business topics such as problem solving and communication -- but the approach is the same. My eye for detail from my philological training comes in handy when reviewing communication, Powerpoint presentations, or digital course blueprints; my colleagues always rely on me for that expertise. 
Digital learning in the age of COVID-19
I first got my feet wet in the digital learning space back in early 2015, when I was overseeing the deployment of a blended introductory Latin program at UCLA. The premise for this approach to teaching Latin was terrific in that it allowed for students to learn the language with a more flexible approach. Instead of having to come to class in person for an hour five times per week, students learned the lecture material through interactive modules online and came to in-person discussion/drill sections two times per week. This approach allowed students who had more demanding schedules (whether because of work on- or off-campus or otherwise) to still be able to take a course that typically required a heavy in-person time commitment. 
This kind of flexibility is something I see in my daily work through our digital course offerings for clients. Clients have demanding work schedules and often aren't able to squeeze in time to participate in in-person training, which requires a significant time investment. Through digital courses, clients are able participate in training wherever they are and whenever they want. If they have 30 minutes free during the workday at the office, they can finish a module or two, or they can spend an hour or two on several modules at home. If they're taking a course with social learning components, they can interact with fellow participants around the globe in online discussion boards, reacting to in-line course prompts and learning from Teaching Assistants who push their thinking. They are able to take these courses to build their capabilities and develop leadership skills with their co-workers as well as with fellow clients around the globe on their own schedule and, as we have seen since early March, during a global pandemic. 
Over the past several weeks during this time of COVID-19, it's become increasingly clear that the digital learning space will play an important role in how we learn for the near future. As K-12, higher ed, and adult learners are beginning to adjust to what may be the "new normal" for an undefined period of time, they may no longer be able to learn together in person as before. They will be relying on both synchronous (e.g. Zoom) and asynchronous (e.g. Learning Management Systems like Canvas and Blackboard). Humanities PhDs are well suited to enter the digital learning space for three key reasons:
1) We have experience designing and delivering courses for a diverse group of students and writing clear and effective content for UI/UX design
2) We have training in critical and analytical thinking and can effectively evaluate digital learning materials and methods according to the contexts in which they will be deployed
3) We are very adaptable and flexible in our work through our project management backgrounds and are well suited to implement feedback from reviews and research new innovative methods
More and more of these opportunities will be in demand over the coming weeks and months. Humanities PhDs are great fits for these roles that combine expertise in communications, UI/UX design, research, and project management. They just need to think about how they can reframe their skillset and make a compelling case for entering the digital learning space.