Three sentences to write on a stickie and tape to your desk/mirror/computer.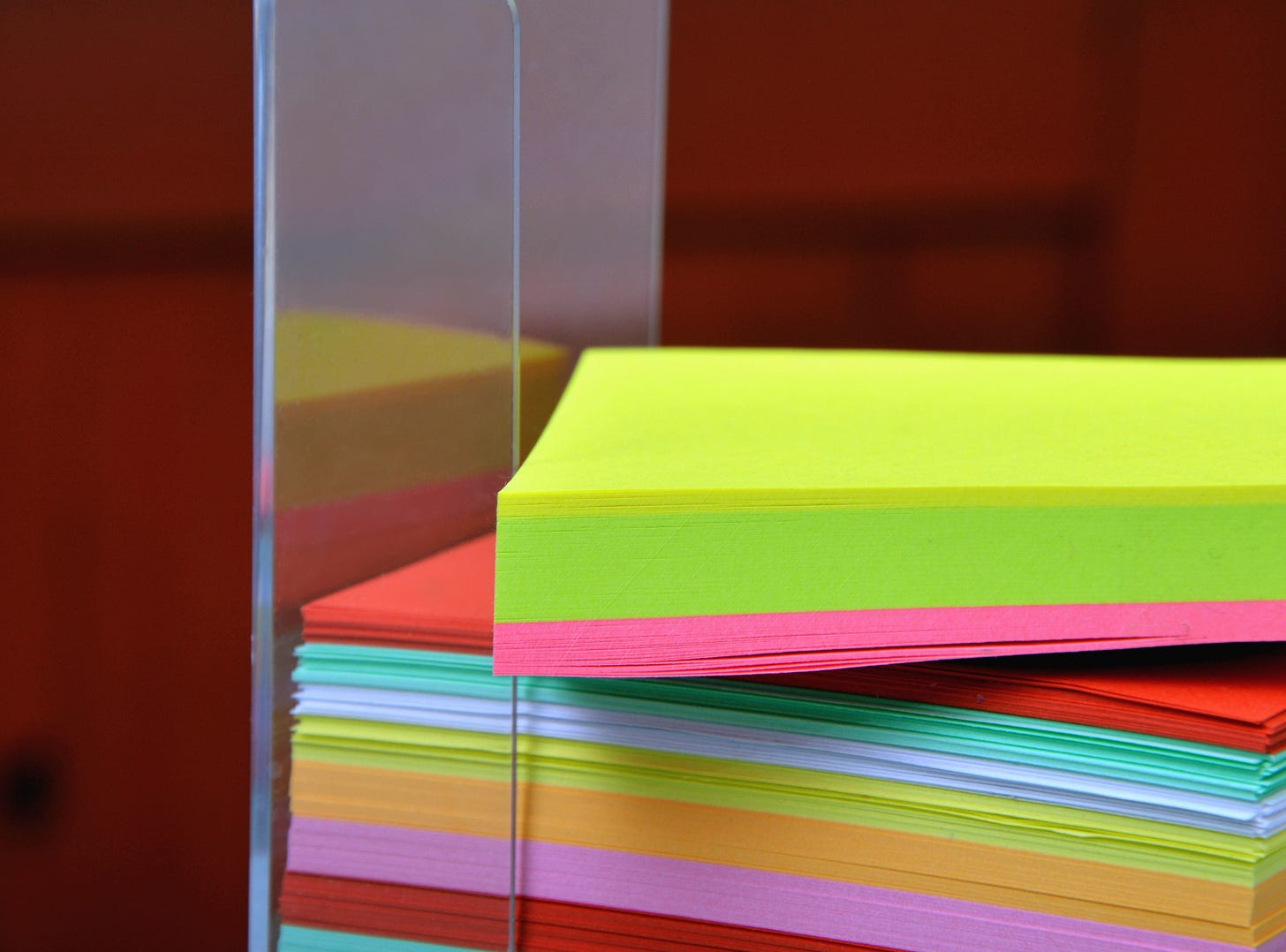 I was going to call this piece "The three most important people for my career change." But then I couldn't remember the name of one of them, and one of them I haven't talked to in more than 10 years. Thankfully, the third is right here. I didn't want to try to remember the person whose name I've forgotten, so I thought that I'd use something clever for a title, like "three pearls of wisdom.". It seemed like there would be a neat connection between a grain of sand as irritant = beautiful, valuable pearl, on the one hand, and challenging circumstances = trenchant advice, on the other hand. But then as I was trying to connect the dots in my mind, it felt too much like one of those story problems from h.s. math with trains going in different directions at different speeds, and you have to determine the name of the conductor who boarded a train in Yankton, South Dakota. Or something. And then I read that "pearls of wisdom" is considered a "terrible cliché". Yuk. So, I'm reduced to "three sentences to write on a stickie and tape to your desk/mirror/computer so you can read them every day." But it's good stuff, I promise.
#1. Figure out your story
When I was thinking of leaving academia, one of the first people to whom I was introduced was a political science PhD who'd gone into management consulting. I don't remember his name or anything that we talked about, except for this one crucial thing that he told me: you have to figure out your story. What that means is that you must be able to tell the story of how you got to this place right here — this job interview or this networking lunch, etc. — and how this job or career is the telos to which your professional life has been tending, the logical conclusion at which you've been deliberately aiming. That all sounds pretty abstract, so let me try to clarify with a negative example. When you're at your next networking session on Zoom, and someone asks you "so, Bill, why do you want to move from academia to XXX?", your answer is not and never can be something like: "academia sucks/there are no jobs in medieval French history/I hate my dissertation/I hate my advisor/I'm miserable/I don't really know what I want to do with my life." One or more of those things may be true, but they don't matter. What matters is the communication of purpose and direction. To be sure, you can be ignorant of many details about where you're going, but you must communicate your enthusiasm, your energy, and your talents for this new enterprise. Why does this, not some other thing, make the most sense for you?
How do you do this? You write it. Less than a page. The Story of You — where you've been, where you're going and why, your motivation, your talents, your ideas. You must internalize it, live it, understand it. You will write this paragraph or page many times as your story evolves and sharpens. I realize that this may sound like a bunch of mumbo jumbo. But it is very important. So, figure out your story. Try to write it down and see what you learn.
#2. You are always looking for your next job
I remember when I was told this I thought that it seemed craven or cutthroat or something. "What about loyalty and commitment?" I thought. What I've come to know since then is, first, that you're the only person looking out for your career. Sure, some organizations are going to be progressive, and employee-friendly, with all sorts of great vibes, etc. I hope that's where you're working. But when push comes to shove, the organization is going to do what it thinks is best for its objectives, not what is best for your desires or needs. Look out for #1, always. Second, I've come to realize that the energy of this sentence isn't really or only about leaving one job and getting the next one. In fact, the addendum here is "but you don't have to take it." It's about the intersection of opportunity and networking. It's about sharpening your story and telling it, in bits and pieces, to people that you meet. It's about learning about new roles, new industries, new choices and chances. It's about making yourself available, about ensuring that you're always on your game, open and ready for what's next — especially things that you haven't even imagined yet. You're always looking for your next job, but you don't have to take it.
#3. The biggest risk is taking no risk
This is my favorite, and I have to give a shout-out to my mentor and guru, Marcie Hirsch, for it. Just sit back and think about it. Let it soak in for a minute. Complacency can lead to stagnation and irrelevance. Complacency shifts risk-control out of your hands and onto the great big wheel of chance. You become more subject to happenstance, fate, circumstances, luck — whatever you want to call it. I've come to learn that I prefer to figure stuff out myself, to dictate the terms of my life as much as possible to the world instead of having them dictated to me. Change, growth, learning, movement. The biggest risk is taking no risk.